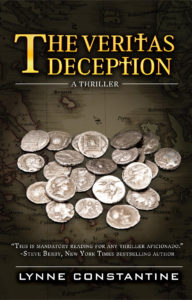 About a year ago, an independent author named Lynne Constantine contacted me about a text I have worked on (and featured in New Testament Apocrypha: More Noncanonical Scriptures) called the Legend of the Thirty Pieces of Silver (information on e-Clavis). Lynne wanted to use the coin relics as a plot device in her latest book and wanted some advice about the text and the veracity of "Judas penny" relics still existing today. Lynne's book, The Veritas Deception, was released a few months ago, and I just finished reading it last night.
The novel is a thriller that involves a secret organization led by the psychopathically evil Damon Crosse intent on corrupting society by desensitizing people to murder, violence, and moral depravity through social media and television programming. Crosse is opposed by investigative journalist Jack Logan and his former fiancé Taylor Phillips, who has become Crosse's target. Crosse is after the silver pieces, which according to legend, bestow upon their bearer their ultimate, evil desire.
The legend of the silver pieces is recounted on pp. 240-41 and 438-39. Logan and Philips read a portion of the text from a web site (is it mine?). The story of the coins' journey from Abraham to Judas continues beyond the text when the characters reveal that the coins were given to the guards at Jesus' tomb, and from them to Mary Magdalene, who entrusted ten each to Peter, Matthew, and John son of Zebedee, who passed them on to John of Patmos. As it turns out, Phillips is a descendant of John of Patmos, and her family has been safeguarding his ten coins for generations. The novel comes to a climax with Phillips recovering the coins and using them to bring about Crosse's downfall.
The novel is a multi-layered nail-biter that, to my delight, features two strong female protagonists who overshadow the male heroes of the story. When I began working on the Legend of the Thirty Pieces of Silver with Slavomir Céplö years ago, almost no-one had even heard of the text; it is a delight to see it drawn into popular culture. Congratulations to Lynne on her book. If you are interested in reading more about it, visit http://lynneconstantine.com/the-veritas-deception/.