I was very happy to receive in the mail today (on my birthday) a box full of copies of my volume New Testament Apocrypha: More Noncanonical Scriptures Vol. 1, co-edited with Brent Landau. It was a long process seeing this project from conception to birth. Brent and I began soliciting contributions for it at the 2010 SBL. Brent and I will be doing some promotion for it over the next month, including a reception for contributors next week in San Antonio and a video interview for our publisher, Eerdmans. My thanks once again to everyone who worked on the volume and for putting their faith in a couple of junior scholars to see this thing through to publication.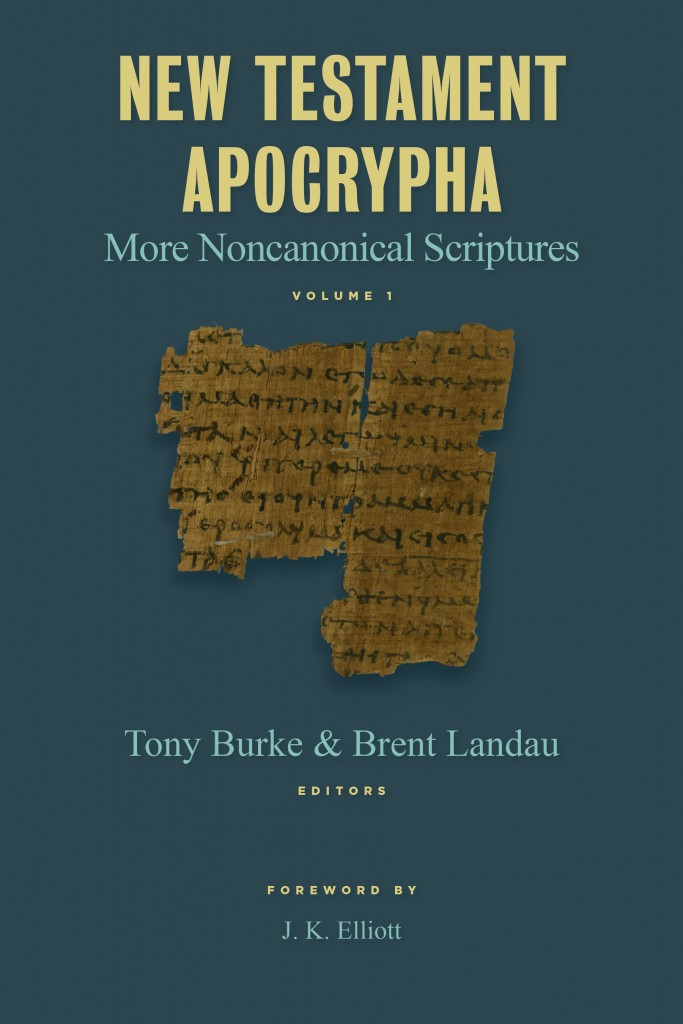 Testimonials from the Book Jacket:
"This fine collection brings together thirty recently published or long known but often neglected Christian texts, variously inspired by or responding to characters or events presented in the books of the New Testament, together with one Jewish parody of the Life of Jesus. Editors and contributors alike are to be congratulated on their achievement, which paves the way for a wider appreciation and understanding of these varied, fascinating, and sometimes surprising texts, some of which may at times have been more popular than their biblical counterparts." ~ Andrew Gregory, University College, Oxford
"In this masterful volume we find that greatest of rarities—a collection of ancient texts scarcely known (let alone studied) by scholars of Christian antiquity. With these fresh translations of some thirty apocryphal works, each with a gratifyingly full introduction and bibliography, Burke, landau, and all the contributors have provided us with a rigorous but highly accessible volume that will long prove to be a scholarly vade mecum." ~ Bart D. Ehrman, University of North Carolina at Chapel Hill
"A treasure trove of early Christian writings dating from the second century onward. Created by Tony Burke and Brent Landau as a supplement to more traditional collections of apocryphal literature, this book contains amazing stories from the Christian imagination about Jesus and other biblical characters whose legends were popular witnesses to the Christian faith in late antiquity and the Middle Ages. Many of the texts introduced and translated here are being made available to us for the first time. A must-have collection." ~ April D. DeConick, Rice University
"Magnificent…The thirty writings brought together here present a fascinating snapshot of the concerns, interests, and piety of various early believers expressed in the form of literary texts. This volume will become a standard work in the field; serious scholars of early Christianity and interested readers will learn much while being entertained and captivated by these enigmatic ancient texts." ~ Paul Foster, University of Edinburgh
From the Eerdmans Catalog:
Compilation of little-known and never-before-published apocryphal Christian texts in English translation
This anthology of ancient nonbiblical Christian literature presents introductions to and translations of little-known apocryphal texts from a wide variety of genres, most of which have never before been translated into any modern language.
An introduction to the volume as a whole addresses the most significant features of the included writings and contextualizes them within the contemporary (quickly evolving) study of the Christian Apocrypha. The body of the book comprises thirty texts that have been carefully introduced, annotated, and translated into readable English by eminent scholars. Ranging from the second century to early in the second millennium, these fascinating texts provide a more complete picture of Christian thought and expression than canonical texts alone can offer.
CONTENTS
1. Gospels and Related Traditions of New Testament Figures
The Legend of Aphroditianus (Katharina Heyden)
The Revelation of the Magi (Brent Landau)
The Hospitality of Dysmas (Mark Bilby)
The Infancy Gospel of Thomas (Syriac) (Tony Burke)
On the Priesthood of Jesus (Bill Adler)
Papyrus Oxyrhynchus 210 (Brent Landau)
Papyrus Oxyrhynchus 5072 (Ross P. Ponder
The Dialogue of the Paralytic with Christ (Bradley N. Rice)
The Toledot Yeshu (Stanley Jones)
The Berlin-Strasbourg Apocryphon (Alin Suciu)
The Discourse of the Savior and the Dance of the Savior (Paul C. Dilley)
An Encomium on Mary Magdalene (Christine Luckritz Marquis)
An Encomium on John the Baptist (Philip L. Tite)
The Life of John the Baptist by Serapion (Slavomír Céplö)
Life and Martyrdom of John the Baptist (Andrew Bernhard)
The Legend of the Thirty Silver Pieces (Tony Burke and Slavomír Céplö)
The Death of Judas according to Papias (Geoffrey S. Smith)
2. Apocryphal Acts and Related Traditions
The Acts of Barnabas (Glenn E. Snyder)
The Acts of Cornelius the Centurion (Tony Burke and Witold Witakowski)
John and the Robber (Rick Brannan)
The History of Simon Cephas, the Chief of the Apostles (Stanley Jones)
The Acts of Timothy (Cavan Concannon)
The Acts of Titus (Richard Pervo)
The Acts of Xanthippe and Polyxena (David Eastman)
3. Epistles
The Epistle of Christ from Heaven (Calogero A. Miceli)
The Letter of Ps.-Dionysius the Areopagite to Timothy on the Death of Peter and Paul (David Eastman)
4. Apocalypses
The (Latin) Revelation of John about Antichrist (Charles Wright)
The Apocalypse of the Virgin (Stephen Shoemaker)
The Tiburtine Sibyl (Stephen Shoemaker)
The Investiture of Abbaton (Alin Suciu and Ibrahim Saweros)