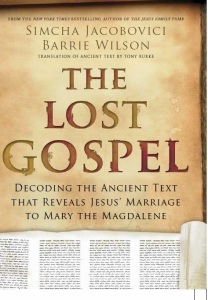 Last Monday morning a story appeared in the press, first in England but very soon all around the world, about a "lost gospel" that contains evidence that Jesus was married to Mary Magdalene and had two children. You've probably heard something about it by now, and you may know I had a hand in this project—a book, The Lost Gospel: Decoding the Ancient Text that Reveals Jesus' Marriage to Mary the Magdalene (Harper Collins, 2014) by Simcha Jacobovici and Barrie Wilson, and forthcoming documentary. The "lost gospel" of the title is a Syriac text: the Story of Joseph and Aseneth embedded in the chronicle of Pseudo-Zacharias Rhetor. I translated the text from two manuscripts at the British Library (one from the sixth-century and another from the twelfth). Since some people have been asking about the translation, and where I stand on the book's argument, I thought I'd write something about my involvement in the project.
About six years ago Barrie Wilson, my colleague at York, asked me if I knew of an aspiring scholar with knowledge of Syriac who could translate a text for him. He meant me. Barrie was involved in hiring me at York ten years ago and we continue even today to interact, on thesis committees, etc., though now Barrie is retired. I was looking at the time for opportunities to exercise my Syriac skills. So, for both of these reasons, I had to say yes. I think Barrie told me then (if not, soon after) that Simcha was involved in the project. The two of them were careful not to reveal anything to me about their interpretation of the text; they said they did not want it to influence my translation. Of course, late in the process I started to have my suspicions but the full details were not revealed until long after I completed the translation.
The Syriac text of Joseph and Aseneth is found in only two manuscripts: British Library, Add. 17202 (sixth cent.) and British Library, Add. 7190 (twelfth). These were published by J. P. N. Land in 1870 (in Anecdota Syriaca vol. 3. E. J. Brill)—i.e., Land gave a transcription of 17202 and added material from 7190, which appears to be a copy of the earlier manuscript, to fill in material from a missing page at the beginning of 17202. G. Oppenheim (Fabula Josephi et Asenethae apocrypha e libro syriaco latine versa. Berlin, 1886) later provided a Latin translation (with emendations of the Syriac text in his notes), and E. W. Brooks (Historia Ecclesiastica Zachariae Rhetori vulgo adscripta . CSCO, Scriptores Syri, III. v, Textus; Paris, 1919) presented a transcription and Latin translation of Ps.-Zacharias in its entirety. The Syriac text has never been translated into a modern language nor has it been used effectively in modern editions and translations of Joseph and Aseneth.
I worked for several months on the translation, with help at times from Slavomír Céplö, with whom I worked on the Syriac tradition of the Legend of the Thirty Pieces of Silver. I sent him chapters to look over and he provided solutions to the occasional troublesome word or phrase. I also had a little help from Albert Frey. The text is long but not particularly challenging.
Though my work was completed fairly early in the process, the publication of the book was continually pushed back—due, I think, to delays in filming the documentary and Simcha's workload. In the meantime, I ordered copies of the manuscripts to check the transcription (which was wrong on rare occasions). Barrie and Simcha asked me at this time to translate the introductory correspondence to the text—a letter from an anonymous writer to Moses of Ingila, asking to translate the text from Greek and reveal to him its "inner meaning," and Moses' response. Again, Land had transcribed these letters and Brooks had re-transcribed and translated them into Latin. My own task of translation proved more difficult than for Joseph and Aseneth, due in part to damage to the manuscript: a portion of the bottom of one leaf is cut off and there is damage here-and-there to a number of words. In the end I managed to reconstruct and translate the text fairly well (with help again from the very talented Slavomir Céplö).
I think these letters are quite interesting. Here we have a third example of a thwarted promise of revealing the meaning of an apocryphal text. The other two are the manuscript of Clement's Letter to Theodore, which ends abruptly with "Now the true explanation [of the Secret Gospel of Mark] and that which accords with the true philosophy," and Eusebius of Caesarea's excerpt of Bishop Serapion's tract on the Gospel of Peter, which terminates before Serapion reveals the docetic contents of the text (see Hist. eccl. 6.12.1-6). Perhaps, in all three cases, someone has willfully censored the material due to sensitivity over its heretical contents.
The manuscript evidence for the Syriac Joseph and Aseneth allowed me to construct a timeline for the text's transmission, which I passed on to Barrie and Simcha. 1. The text was composed in Greek at some point in the early Christian centuries (I do think that the text is Christian, not Jewish, or at least it has undergone some significant Christian re-working). 2. An anonymous writer sent the Greek text to Moses of Ingila in the sixth century, asking him to translate it into Syriac and reveal to him its "inner meaning." 3. Shortly after, Ps.-Zacharias incorporated the text and the letters into his history in the middle of the sixth century, roughly the same time as the composition of British Library Add. 17202 (curiously, this is a short span of time for all of these elements of transmission to occur; could the anonymous writer be Ps-Zacharias? could Add. 17202 be the autograph of the chronicle?) . 4. This manuscript was used by the twelfth-century copyist of British Library Add. 7190. By this time the original manuscript had lost several leaves (thus chs. 13:12-16:3 are missing) but the beginning of the text and the letters were intact. However, the copyist of Add. 7190 chose not to reproduce the letters. 5. Sometime after the twelfth century, the final page of the letter and the first page of Joseph and Aseneth was removed from Add. 17202 and the bottom portion of Moses of Ingila's letter was cut off, right where the "inner meaning" was to be revealed.
The final part of my story takes place in London. I was asked to take part in the filming of the documentary at the British Library. The timing wasn't great: the shoot was scheduled just a few days after I was set to return from my honeymoon in Italy. But it seemed like a great opportunity—I'd never been in a documentary before, and I hadn't been back to England since I emigrated to Canada when I was nine years old. Also sweetening the deal was the ability to visit the British Library and see the manuscripts in person. At the same time Simcha and Barrie commissioned some digital-imaging specialists to scan and analyze the manuscript. I was skeptical that this would yield much results. Typically multi-spectral imaging is used in very specific circumstances: to recover erased text (particularly in palimpsests) or to assist with deciphering pages that have become transparent, so that the writing on the other side interferes with reading. The results of the scanning were revealed a few months later and we reconvened for additional filming in a Toronto studio. As I suspected, the scanning was helpful in a few instances where the manuscript was difficult to read, but nothing remarkable was revealed.
Throughout the process Barrie and Simcha warned me that I might be criticized for working with them on the book; other scholars have shied away from participating on Simcha's projects out of fear of damage to their careers, others because they worry that their views will be misrepresented, as often happens in documentaries. I think Barrie and Simcha's decision not to tell me about their argument was motivated, at least in part, by a desire to prevent my scholarly reputation from being damaged. I am not one to shy away from controversy and believe that no argument—even if it is highly speculative, even if it is presented outside of scholarly circles—should be silenced. It has been frustrating to see other scholars and the media dismiss the book without having read it or fully engaged with its arguments. I don't expect Barrie and Simcha's position on Joseph and Aseneth to convince many on the origins of this text, but there are aspects of their work that are of interest for the study of Syrian Christianity.
All told, today we are talking again, scholars and non-scholars, about the historical Mary Magdalene, Jewish and Christian apocrypha, Syrian Christianity, and Syriac manuscripts. And we have Barrie Wilson and Simcha Jacobovici to thank for that.