One of the highlights of the SBL Annual Meeting is the publishers exhibition. As you make your way from one booth to another, keep an eye out for these new books.
Baylor
Dirk Rohmann. Christianity, Book-Burning and Censorship in Late Antiquity: Studies in Text Transmission.
Bloomsbury
Alessandro Falcetta. A Biography of James Rendel Harris 1852-1941. The Daily Discovers of a Bible Scholar and Manuscript Hunter.
Lee Martin McDonald. The Formation of the Biblical Canon. 2 vols.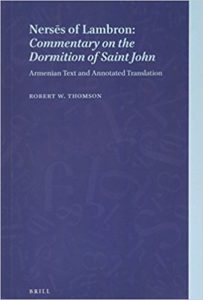 Brill
Robert W. Thomson. Ners?s of Lambron: Commentary on the Dormition of Saint John. Armenian Text and Annotated Translation. ARTS 1.
De Gruyter
Liv Ingeborg Lied and Hugo Lundhaug, eds. Snapshots of Evolving Traditions: Jewish and Christian Manuscript Culture, Textual Fluidity, and New Philology. TUGAL 175.
Gorgias Press
János M. Bak. Introduction to Working with Manuscripts for Medievalists.
Tony Burke. The Infancy Gospel of Thomas in the Syriac Tradition: A Critical Edition and English Translation. Gorgias Eastern Christian Studies 48.
Amir Harrack, ed. and trans. The Chronicle of Zuqnin: Parts I and II. From the Creation to the Year 506/7 AD.
Mohr Siebeck
Jan N. Bremmer. Maidens, Magic and Martyrs in Early Christianity. Collected Essays I. WUNT 379.
David Creech. The Use of Scripture in the Apocryphon of John. A Diachronic Analysis of the Variant Versions. WUNT II/447.
Patricia A. Duncan. Novel Hermeneutics in the Greek Pseudo-Clementine Romance. WUNT.
Jörg Frey et al., eds. Between Canonical and Apocryphal Texts: Processes of Reception, Rewriting, and Interpretation in Early Judaism and Early Christianity (release date: January).
Hugo Lundhaug and Lance Jenott, eds. The Nag Hammadi Codices and Late Antique Egypt.
Oxford University Press
Theodore de Bruyn. Making Amulets Christian: Artefact, Scribes, and Contexts.
Edmon L. Gallagher and John D. Meade. Biblical Canon Lists from Early Christianity.
Peeters
Paul Géhin. Les manuscrits syriaques de parchemin du Sinaï et leurs 'membra disjecta.'
Penguin
Christopher de Hamel. Meetings with Remarkable Manuscripts: Twelve Journeys into the Meideval World.
Random House
Tom Bissell. Apostle: Travels Among the Tombs of the Twelve (paperback).
Society of Biblical Literature
Timothy Lim, ed. When Texts are Canonized.
University of Pennsylvania Press
Frilingos, Christopher A. Jesus, Mary, and Joseph: Family Trouble in the Infancy Gospels.
Wipf & Stock
Tony Burke, ed. Fakes, Forgeries, and Fictions: Writing Ancient and Modern Christian Apocrypha. Proceedings of the 2015 York University Christian Apocrypha Symposium.