In no particular order: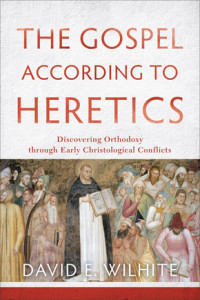 Vernon K. Robbins and Jonathan M. Potter (editors). Jesus and Mary Reimagined in Early Christian Literature. Atlanta: Scholars Press, 2015. Excerpt.
Lincoln H. Blumell and Thomas A. Wayment (editors). Christian Oxyrhynchus: Texts, Documents, and Sources. Baylor University Press, 2015.
David E. Wilhite. The Gospel according to Heretics. Discovering Orthodoxy through Early Christological Conflicts. Baker Publishing Group, 2015.
Paul Hartog (editor). Orthodoxy and Heresy in Early Christian Contexts: Reconsidering the Bauer Thesis. Wipf & Stock, 2015.
Richard Pervo. The Acts of John. Early Christian Apocrypha 6. Polebridge Press, 2015.
Tony Burke (editor). Forbidden Texts on the Western Frontier: The Christian Apocrypha in North American Perspectives. Wipf & Stock, 2015.
Pierluigi Piovanelli and Tony Burke (editors). Rediscovering the Apocryphal Continent: New Perspectives on Early Christian and Late Antique Apocryphal Texts and Traditions. WUNT 349. Tübingen: Mohr Siebeck, 2015.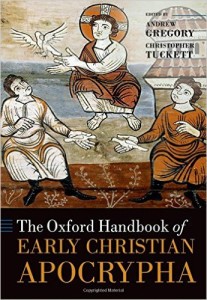 Philip Jenkins. The Many Faces of Christ: The Thousand Year Story of the Survival and Influence of the Lost Gospels.  Basic Books, 2015.
Geoffrey S. Smith. Guilt by Association: Heresy Catalogues in Early Christianity. Oxford University Press, 2015.
Andrew Gregory and Christopher Tuckett (editors). The Oxford Handbook of Early Christian Apocrypha. Oxford University Press, 2015.
And don't forget to drop by the Eerdmans booth to get a preview of New Testament Apocrypha: More Noncanonical Scriptures, vol. 1.